Those who follow me on Facebook know that I've had my eye on a sweet
Siamese
kitty for a couple of months. She's been living with her foster mom who works for Austin Siamese Rescue.
In order to adopt, there are a number of strict requirements. Current kitties need to be updated on all their vaccinations and daddy has to fill out a questionnaire and submit to a phone interview, and three friends were kind enough to write a few words on my behalf as a purrrfect cat daddy.
Trips to the vet have always been a huge ordeal for me. Samantha, my first cat (and partial Siamese), was probably the easiest cat to transport. She never put up much of a fuss about anything and enjoyed the company of strangers. Tater Tot is probably next in line in terms of ease, although he is on higher alert mode when strangers are in the house.
That brings us to the brother and sister: Sweet Pea and Sissy.
Sweet Pea isn't that difficult to coax into a situation. It was quite easy to just go outside, pick him up, and bring him into a bathroom until the vet arrived. He struggled only a bit. But once the bathroom door was closed, he howled like a banshee.
Sissy was enough to make me feel like I needed a valium. She was fiercely resisting as soon as I picked her up and headed for the master bath. The instant I placed her on the floor she was bolting for the door at lightning speed. I decided I might need to go ahead and put her in the pet carrier until the vet arrived.
I called out for Sheldon to bring it to the bathroom. When he arrived with the device, Sissy immediately knew this was going to be some kind of trouble. Her legs were flailing as I tried to ease her into the carrier. In a split second she can go from the sweetest kitty to something incredibly wild when any kind of uncertainty is on the horizon! Anything out of the ordinary just freaks her out!
Sheldon says the correct method for placing a kitty into a carrier is to set the carrier on the end with the door facing up, and lower the cat into it. Next time I may let him try this as I prefer to avoid scratches and puncture wounds. I think it's easier to set the carrier on the floor, open the door, grab the cat and poke her in and then close the door. Lowering the cat from above into an upward facing opening sounds good as long as the cat remains flaccid. Sissy was not flaccid. Anyone reading this have any preferred method?
Anyhow, I survived this trauma and so did the cats. Sissy has forgiven me and joined me on the bed for a nap. Sweet Pea subconsciously wishes he had just stayed inside where the air is cool rather than howling to get back out. And Tater Tot acts as if nothing at all happened.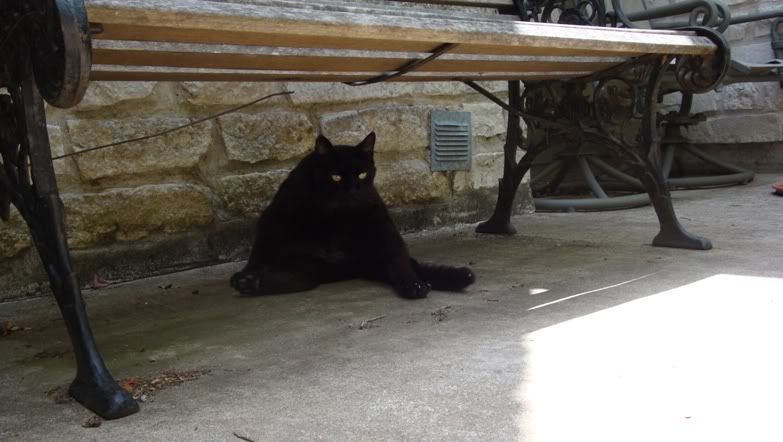 Sweet Pea has a heart murmur we learned. He also has a little bit of gingivitis. The vet thinks before we take him for treatment, he should have an ultrasound performed on him to assess his heart condition. Mercy.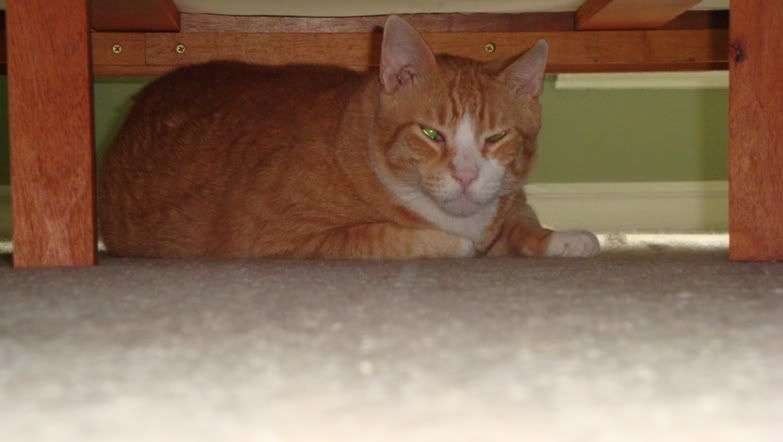 Tater Tot has a pretty severe case of gingivitis and one of his front fangs is longer than the other. The vet thinks it may be an infected abscess and might even need to be removed. Good heavens! We weren't expecting this!
What wasn't a surprise is that the Tot is obese. He weighs almost 17 pounds and his ideal weight is around 10 pounds. The vet seemed to think we'd be doing well to get him down to around 12 or 13. She approved of the cat food we're buying; he just needs less of it.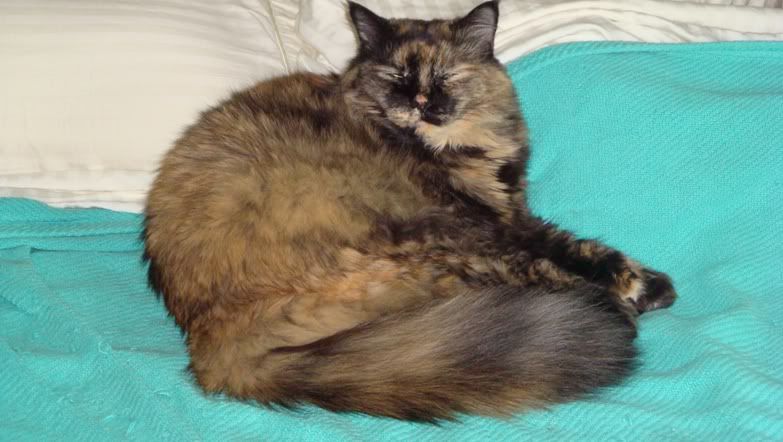 Ironically, Sissy also has gingivitis (apparently that's very common in cats!) and a possible abscess around the same tooth as the Tot! We also learned it's very important to treat these conditions because dental issues are the ones which can eventually lead to kidney failure.
So, it seems as if my mobile vet solution was only a temporary convenience and doesn't get me off the hook from having to poke a cat into a carrier and hauling it off to the vet. Oh, joy.
Happy Friday. Happy long 4th of July weekend!