Sissy and the Tot know something is going on in the back bedroom behind the closed door.
Yes! We have a new cat!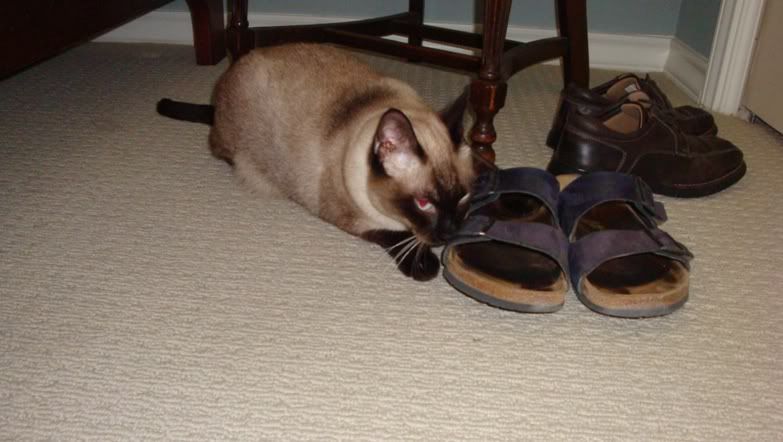 Her name is Jessie Lee and apparently she's another shoe-sniffer!

Look at those whiskers!

The Siamese girl loves her daddies already. Especially me.

Sweet girl!

Slut!

Jessie Lee was adopted from the Austin Siamese Rescue and arrived at her new home yesterday afternoon.
She's about 2 years old and very much still a playful kitten. I think she is trying to make up for lost time since she didn't really get a lot of loving in her first home. She was taken away from it because they were burning her with cigarettes.
She then spent close to a year with her foster mom who works for the Siamese Rescue. It was too many trips back and forth to be put on display at various pet stores and she's ready for some relaxing time in her permanent home.
I love how she's so chatty and likes to use her hands to touch me, poke at me, etc. I'm so glad we got this girl even though it took close to 2 months after I first met her before I could get all the arrangements made!
Happy Friday!!