February has been much warmer than usual and it has my spring fever popping out all over. Last weekend I cleared out this area outside the kitchen. There was an enormous rosemary which had engulfed a rather large Mexican oregano, killed that off, and only a few of those cactus pads could be seen peeking out from the rosemary.
A few months ago I removed a large oleander which was against the kitchen window. That was a major chore requiring a chainsaw to fully put it to rest. Now I want to create something nice in this area, and maybe add a place to sit, a bench perhaps, surrounded by flowers.
I needed to get quite a bit of compost to amend the soil so this afternoon we loaded up the Benz and trucked over to Natural Gardener to self-bag some turkey compost. A pickup truck would be ideal for these types of chores but I laughingly refer to the 1996 Mercedes as my "utility truck."
I can get six bags in the trunk and four in the back seat for a grand total of 10 bags. Not bad!
That's about 700 pounds of composted turkey poop, give or take 50 pounds.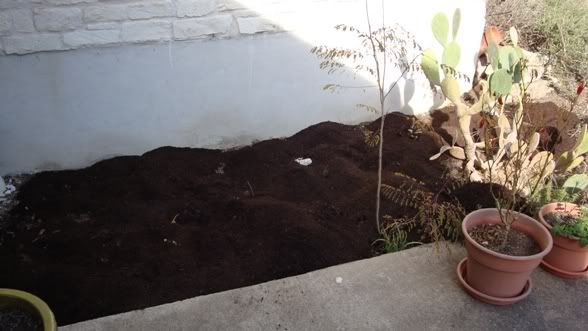 The funny thing is, the car actually drives better with 700 pounds of compost in it. But that would be silly to drive around with that load, and not very fuel efficient.
That white bag in the trunk is a 20-pound bag of seed starter mix. I used all but a pound or two to get six different varieties of heirloom tomato seeds planted. If I get decent germination from those seeds (they are 2 or 3 years old) then I may need to plant some of them in this patio bed. We'll have far too many for the garden area.
Each row is a different heirloom, identified by the package at the end of the row.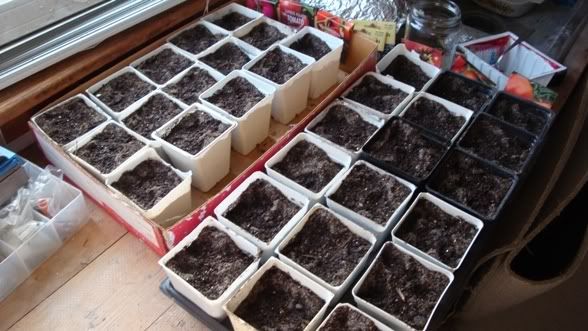 I am excited and pleased with my productivity. So, how did you spend your Sunday afternoon?