Just a quick update:
We just returned from the first bout of the Poetry Slam -- with teams from five cities participating. Atlanta's "Art Amok" team is pictured here, with (from left to right): PhoenixYZ, Theresa Davis, and Shamanic, a Shakespeare's Sister contributing blogger, at the far right.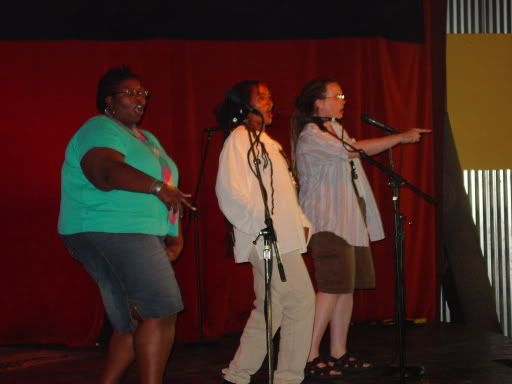 Tonight's winners were in this order: Austin, Detroit, Mesa, Atlanta, and Corpus Christi.
I'm thinking Austin got pre-loaded by a local crowd -- I'm not sure how judges are selected but I would have given first place to Detroit over Austin, although both were great. One of the judges gave someone on the Detroit team a pathetic 6.0 score which stood out from the other four judges which averaged in the 9 range. I'm sure that knocked Detroit down a notch, and quite unfairly.
(some white woman needs her ass whupped!)

"Art Amok" will be in bout #28 Thursday night at 9:00 at Antone's downtown. We'll see ya there! And I'm going to try and get better pictures. I'm also going to improve my hydration -- it's HOT in Texas.