I'm so glad to see that
Pam
has a Fucking sense of humor.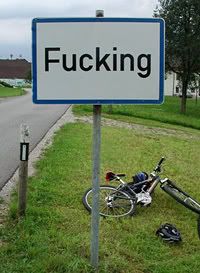 At first I wasn't sure if the
Fucking news
was for real or not. As many times as I traveled through Europe, you'd think I'd have found this Fucking place. As much as I love to use the F-word, if there was a Fucking, Texas I'd be packing my bags tonight and putting my house on the market and hitting the Fucking road.
Apparently this is for real. The
fucking
British keep stealing the Fucking sign so they had to put it in concrete.
I've visited and lived in a lot of towns that I ended up wanting to leave. And I've used all manner of adjectives to describe the places. But to live in a town such as this would be my residential wet dream. My lingo would not be radicallly different than it currently is, except you could never accuse me of swearing, and when writing, I'd have to use caps to be certain I'm not offending anyone:
I've got to run to the Fucking post office, then to the Fucking bank, and the Fucking supermarket. The Fucking traffic is a bitch! If another Fucking asshole cuts me off there's gonna be hell to pay. Where are the Fucking police when you need 'em? Sitting at the Fucking donut shop? I would complain to the Fucking mayor but what's the point? All the Fucking politicians are corrupt anyway. Why else are the Fucking taxes so high? It's not like the Fucking streets are safe, nor are the Fucking schools particularly good. Where's all the Fucking money going? Tax breaks for the Fucking rich? Incentives for the Fucking corporations? Give me a Fucking break.
OK. So it might get tiresome after awhile being a Fucker. I'm going on the assumption that's what the residents would be called. Just as with any town, you'd have your smart Fuckers, your dumb Fuckers, your lazy Fuckers, and perhaps even some Mexican Fuckers stealing all our Fucking jobs. The racist Fuckers would get upset, the Fucking city council would pass some new Fucking laws, and suddenly the entire Fucking town would be divided. You might get arrested and thrown in the Fucking jail for flying any flag other than the Fucking flag.
Fucking would be insane. Now that I think about it, I don't fucking want to live there.