This photo released by the Texas A&M University's College of Veterinary Medicine and Biomedical Science shows the three kittens Wednesday, Dec. 13, 2006, that were born in September to the world's first cloned cat. Two of the kittens take after their mother, while the third, left, has a gray coat like his father. (AP Photo/Texas A&M University, Larry Wadsworth)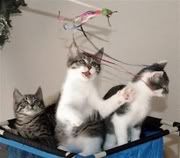 Click the pic to link to the story.
Meanwhile, on a more personal note, here's a photo from Rebecca of Gus & Gabby (decided to include some "big dog" blogging today!) napping. I hope Rebecca doesn't mind -- I cropped the photo as much as I could to avoid overexposing the unmade bed... but then again, how do you make a bed with two kids relaxing on it?
Rebecca's comment accompanying the photo was: "I am really not in charge at my house."
As if that needed to be said!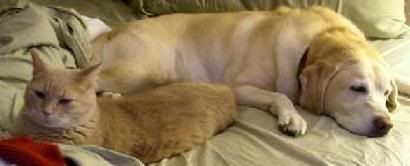 We usually have a similar problem in this house. Tater Tot has already assumed his position on the bed this morning. You can also clearly see where his
"missing" toe
should be on that outstretched foot.