While we are on the subject of album art, I might as well add an obit to the mix. Ron Asheton, the guitarist for the Stooges, has died at age 60.
From my personal album collection... Ron Asheton, second from left. The first guy from left is his brother, Scott.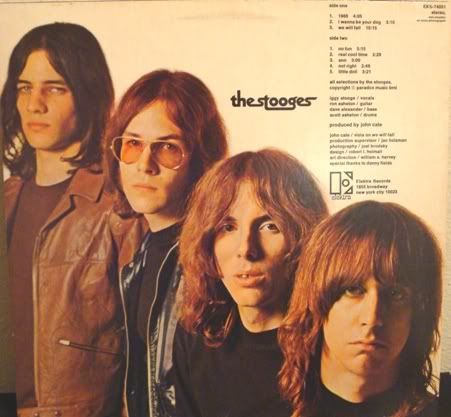 Police officers found his body after a friend alerted them that Mr. Asheton had not been seen for several days, said the Stooges' publicist, Angelica Cob-Baehler. A coroner's report from the Washtenaw County Medical Examiner's office was not yet available; Sgt. Brad Hill of the Ann Arbor police department said that foul play was not suspected.

Mr. Asheton, whose friendly if sardonic personality seemed the opposite of his loud and dirty guitar playing, lived in the house he had originally moved to with his family in 1963, and where the Stooges had their first basement rehearsals.
No Fun
, track 1, side two of this album:
Recorded live in Austin during SXSW 2007 by some lucky fucker.