One way might be to give Saddam Hussein a
death sentence.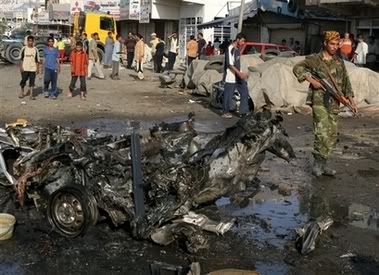 photo: AP/Karim Kadim

U.S. and Iraqi forces drastically tightened security across Baghdad on Friday in advance of Sunday's expected guilty verdict against Saddam Hussein, and the Iraqi prime minister said he hoped the ousted dictator will "get what he deserves."

Saddam has been on trial for murder and crimes against humanity and, if convicted, could be sentenced to death by hanging.
This should make for a nice backdrop against Tuesday's mid-term elections in the U.S. I'm just speculating but I will not be surprised to see a surge in both violence and deaths on all sides in the coming week if Hussein receives a death sentence. October's high death toll numbers could be eclipsed early in November depending on the outcome.

Furthermore, with an automatic appeals process that might take up to a year, this sordid picture might well hang around into the early stages of our presidential campaign season.

On Wednesday, one of Saddam's lawyers said a death sentence would "open the gates of hell" to the roughly 140,000 U.S. troops...
Meanwhile, when is the Bush administration going to get what it deserves?

photo: AP/Manuel Balce Ceneta

The flag and casket business has been good recently and is likely to continue. Are the Democrats, should they retake Congress, going to do anything about this? I honestly don't know. But those of you who want to continue seeing images such as this, vote Republican – because we know they aren't going to stop it.