Rebecca emailed me
this story
today. I'm no fan of homeowners associations but "Mr. Rebecca" sums it up best: "Home-Moaners ASS-HOLE-ciation." Rebecca adds, "what a bunch of nosey nellies."
A homeowners association in southwestern Colorado has threatened to fine a resident $25 a day until she removes a Christmas wreath with a peace sign that some say is an anti-Iraq war protest or a symbol of Satan.

Some residents who have complained have children serving in Iraq, said Bob Kearns, president of the Loma Linda Homeowners Association in Pagosa Springs. He said some residents have also believed it was a symbol of Satan. Three or four residents complained, he said.

Lisa Jensen said she wasn't thinking of the war when she hung the wreath. She said, "Peace is way bigger than not being at war. This is a spiritual thing."

[...]

Kearns ordered the committee to require Jensen to remove the wreath, but members refused after concluding that it was merely a seasonal symbol that didn't say anything. Kearns fired all five committee members.
Here's the offensive Satanic wreath: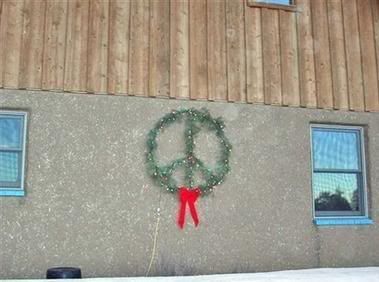 Ho Ho Ho! Season's greetings.
I don't know about the rest of you but I've always received at least one holiday card each year that had the word "peace" on it. I can't help but wonder what kind of raging fit these people experience when opening holiday mail.