I really hate this time of year. Americans show their true colors as a society of debased lunatics with the arrival of "Black Friday." I've heard that our economy would collapse were it not for this frenzied shopping season. If that's indeed true, then it's a sad reflection of our depraved culture. I am embarrassed to be an American. I get even more frustrated by comments suggesting that this is what Christmas is all about.
Sorry to break the news to you. This is not what Christmas is all about and it really has nothing to do with Christmas. It's about marketing, greed, and thought control. And it's successful.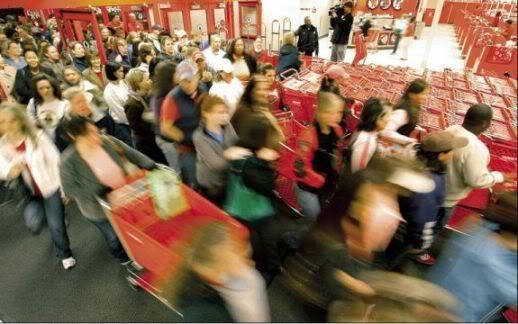 photo: Arkansas Democrat-Gazette/KAREN E. SEGRAVE
From the Arkansas Democrat-Gazette on Saturday:
At the Best Buy on Chenal Parkway in Little Rock, customers lined up as early as

12:30 p.m. Thursday

for the

5 a.m. opening

. As the time approached, about 800 people were lined up around the building and police were directing traffic.
I guess I'm in the minority here but I do not understand why anyone in their right mind (key phrase there) would line up at 12:30 pm on Thanksgiving day waiting on a Best Buy to open at 5 am the
next
morning. These people don't need PlayStations or HDTVs; they are in dire need of
therapy
.
I will confess: I am not immune to the lure of a bargain, but I am more sensible about it.
Best Buy was offering an 8-disc Spanish language course marked down from $39.99 to $4.97. I went after lunch. It wouldn't have surprised me if they'd been sold out and my life would not have been shattered. There were several on the shelf and now, for $5.00, perhaps I'll learn enough to communicate on some level with my brothers and sisters from south of the border.
It's not a sin and the last time I checked, it still wasn't illegal for me to voluntarily choose to speak Spanish. Most importantly, my motivation was driven by a desire for self-improvement and personal growth rather than greed.
Attention, Holiday Shoppers: We Have Fisticuffs in Aisle 2
That is the title of an article in today's New York Times which offers up more shopping mayhem for your reading pleasure.
Shortly after midnight yesterday, an estimated 15,000 shoppers pushed and shoved their way into the Fashion Place mall in Murray, Utah. Police soon joined them, responding to reports of

nine skirmishes

.

Once inside,

shoppers ransacked stores, overturning piles of clothes

as they looked for bargains. A retailer's dream — too many customers! — quickly turned into a nightmare, forcing store clerks to shut their doors, and only let people in after others left. The mall even briefly closed its outside doors to avoid a fire hazard.

"It's like a mosh pit," said Lexie Dewegel, 19. "You get pushed everywhere."
Merchants love this but they are equally responsible for the madness with their deceitful practices of heavily advertised "doorbusters" which are often sold out within seconds of opening the doors.
"Sold out, sold out, sold out," announced the manager at a Staples on Fifth Avenue in Manhattan yesterday at 7 a.m. "When?" asked the incredulous customer. "An hour ago," replied the manager — in other words, the minute the store opened.

In Lewis Center, Ohio, near Columbus, Cindy Milsap, 43, and her daughter, Ashley, 20, woke up before dawn to drive to the nearby Wal-Mart Supercenter, which advertised a 52-inch high-definition television for $474. "We don't really need a new TV, Ms. Milsap said. "But at that price? C'mon."

But the bargain eluded them. The "limited quantity" in the ad, she said, was three TVs — all sold by the time the pair arrived.
And people wonder why I prefer to be a hermit between now and the new year.
Crossposted at
B3