On this day in 1739 English revivalist George Whitefield wrote in his journal: "We can preach the Gospel of Christ no further than we have experienced the power of it in our own hearts."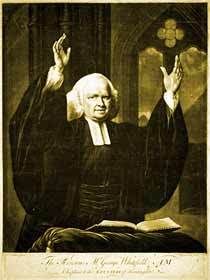 One of his favorite preaching places was just outside London, on a great open tract known as Moorfields. He had no designated time for his services, but whenever he began to preach, thousands came to hear -- whether it was 6 a.m. or 8 p.m. Not all were fans, as evidenced by his oft-repeated testimony, "I was honored with having stones, dirt, rotten eggs and pieces of dead cats thrown at me." In the morning some 20,000 listened to him, and in the evening some 35,000 gathered! Whitefield was only 25 years old. Crowds up to 80,000 at one time gathered there to hear him preach for an hour and a half.
Pieces of dead cats? That was a rowdy bunch back then!
SOURCE: HARTFORD INSTITUTE FOR RELIGIOUS RESEARCH, LEADERSHIP NETWORK; SCOTT WALLACE - STAFF