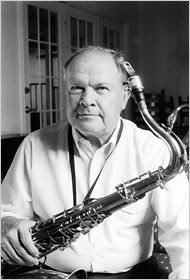 "He died of natural dullness."
From Johnny Carson, joking decades ago about a possible
obit
for Tommy Newsom.
I used to love the jabs Johnny would deliver to Tommy back in the 70s.
The Tonight Show
was probably my first visual exposure to jazz, and I'll never forget it.
"It was a lust," he said, referring to his infatuation with music as a teenager in an interview with The Los Angeles Times in 1992. "I had to do it."
I love anyone who admits to a "lust" for music.