Put on your favorite kinky leather garment and get those whips out. It's going to be a fun night. The
polls are open
in South Carolina.
Polls showed Obama favored to win the state in large part due to his strong support among black voters, who are expected to comprise more than 50 percent of the electorate.
Damn the vote! Let's see how many
super-delegates
Clinton can
rack up
.
A CBS News survey of Democratic superdelegates revealed that 184 of them are supporting or leaning toward the New York senator and former first lady. By a more than two-to-one margin, she tops Barack Obama, who is supported by 71.5 superdelegates.
Ahhh, the sweet smell of victory. "Securing America's future" indeed.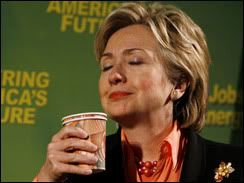 Crossposted at
Big Brass Blog