While we are on the subject of seeing just what you want to see in a picture as opposed to what might actually be there, here's a classic example.
At first glance, I swear I thought this was an uncircumsized penis being tugged with a latex glove. (Granted, a rather gnarly one!) Alas, my mind is thoroughly in the gutter this morning.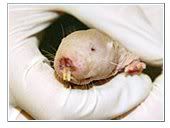 'Tis nothing more than a
naked mole rat
.
As vulnerable as naked mole rats seem, researchers now find the hairless, bucktoothed rodents are invulnerable to the pain of acid and the sting of chili peppers.

A better understanding of pain resistance in these sausage-like creatures could lead to new drugs for people with chronic pain, scientists added.
Since investigative journalism is in my blood, I dug around and located a sample of the chili peppers from which the capsaicin was retrieved to conduct the tests.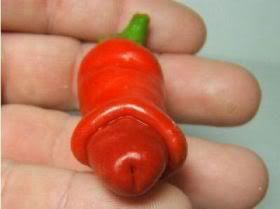 Stop tugging your mole rat or you'll go blind.