Specifically for
Nicole.
Ask, and ye shall receive.
After a particularly crappy birthday weekend, I am now in a
much
better mood after a productive Monday at work. Funny how a bad weekend can make a Monday at work seem great. So, I tend to get in a floral mood around my birthday so here we go.
I haven't walked around the
Kona
Ranch in a few months. It was a nice outing.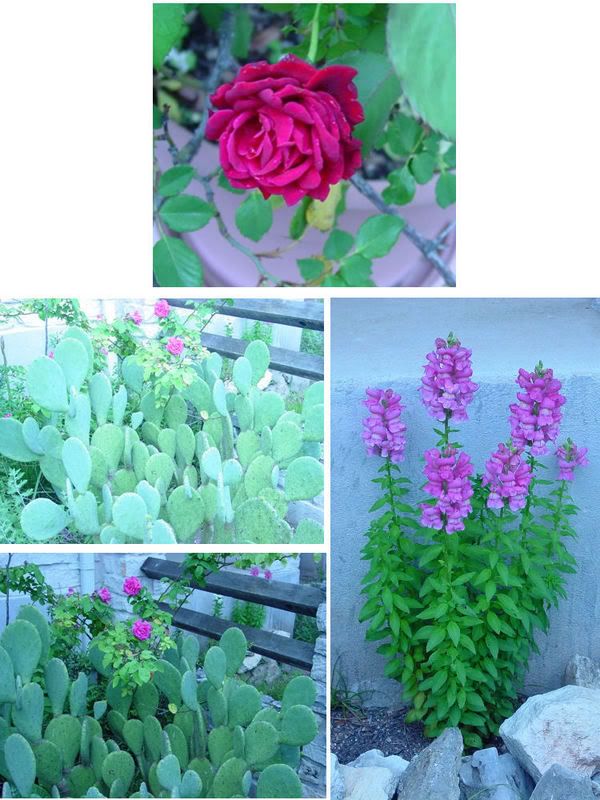 I love my cactus patch with the roses behind it, and the snapdragons were a nice surprise to find. I had no idea they were blooming. Our house is an odd layout and we hardly ever use the front entrance and patio where they are planted. I didn't realize until I'd posted this that the two cactus photos are almost identical. Sorry, it was a laborious process assembling these from 13 photographs I took and I'm rather worn out this evening.
The Jerusalem sage is looking quite nice this year as well. This is a hardy plant as it's growing in some very shallow poor soil and has been for several years.
In the garden, we have an odd onion which looks a bit like a snake which has swallowed a small rodent. And the pea blossoms are as lovely as an orchid.
In the picture below,
txrad
is showing off his bi-color roses which have come from the same plant.
The middle picture is a musk rose -- definitely a climber. It has grown high up into a dead tree and there are roses dangling from high branches which aren't easily seen in the photograph. It's quite spectacular. The bottom photograph is a shot of my collard greens again. Obviously I am obsessed with collards.
It was about 4 years ago when I decided to order several different roses from an online nursery. I ended up ordering about twelve and
txrad
thought I'd lost my mind. Our soil here is not great, and it's very difficult to dig a hole more than a few inches deep due to the limestone. I ended up putting several roses in pots but I did find places to put a few in the yard. Not all are pictured here because they aren't at their best currently. All in all, I'd say I have no regrets with my
frivolous
purchase.