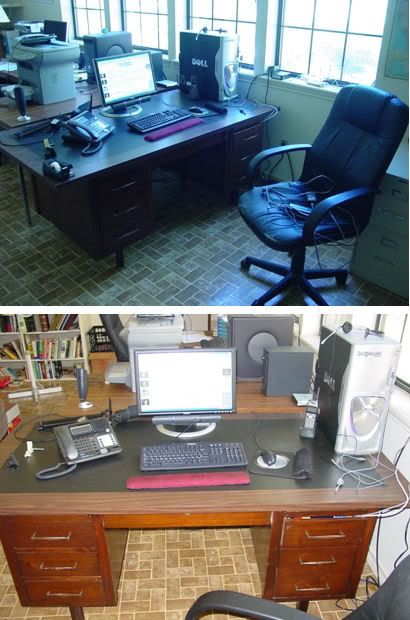 I was sitting here today trying to do some work but preferring to upload CDs to my Zen player and realized perhaps I needed to change some things in order to change my attitude. I've been in a real funk with my home office situation for quite some time.
Hopefully this change will bring about some fresh positive karma. My desk had been in the same position for years, probably through three jobs. I had the same work space when txrad and I were working for someone else out of our home -- that company went bankrupt and we lost our jobs. We had our own company in the same space for 2 1/2 years and I'll be having to visit with a lawyer soon to discuss bankruptcy for that one also. Needless to say, the space and the familiarity of it was really starting to get me down.
The desk used to be positioned where I was facing the window. There was a small filing cabinet on the right side of the desk and a wall of shelves to my right which are now behind me, and with quite a bit of available space there now.
Previously, due to the desk being so wide, it was quite cramped trying to access the stuff on the shelves nearest the windows. It was basically dead space. Not good feng shui.
I was also motivated to vacuum and rid the area of cat hair -- there was a LOT of it. And the really fun part: untangling all the cables from the two computers, fax, stereo, and phones. What I thought would be a 30-minute desk move turned into a 3 hour ordeal. I ended up having to unplug almost everything in order to untangle the mess. Don't you ever wonder how cables and wires always seem to tie themselves into knots when in close proximity? It's maddening.
But I'm done now. I feel organized again. Hopefully my mood will improve now. Next weekend I may start on cleaning the shelves.